Do you need help with remote learning?
For help accessing or using Google Classroom (this includes access to the Duke's school website and email) please click here to fill in the short form.
To comply with GDPR policies we will ask a security question to verify your request before we can reset passwords.
Duke's Secondary School Remote Learning Portals
MyMaths
Website = https://www.mymaths.co.uk/
Username = ncea    Password = heptagon
Please contact Mr Butler for individual usernames and passwords.
Hegarty Maths – a new homework platform for ALL Duke's students
In an exciting development, every single Duke's student in years 7 to 11 now has their own Hegarty Maths account. This is a very well respected platform, which allows children the opportunity to watch video lessons and answer 'quizzes' on all the skills needed to progress in Maths at secondary school, right up to GCSE level.
Maths teachers will be setting weekly homework tasks for all children, which can be completed on any connected device, such as laptop, tablet, PC or smartphone.
Instructions on how to get started have been added to every child's Maths Google Classroom, but it is a very easy process;
Go to www.hegartymaths.com

and search for NCEA.

Choose Duke's Secondary, then enter the required details to access your account.
Should you have any questions at all, please feel free to contact Maths teachers through Google Classroom.
All support from parents with the completion of homework is greatly appreciated by teachers – and children who complete regular homework to the best of their ability make much more progress than those who don't.
Doddle
Website = https://www.doddlelearn.co.uk/app/login
Username = If the student does not know this please contact the school technicians using this form username and password request form.
Password = If the student does not have their Doddle password but knows and can log in to the Dukes website (email) they can request a password reset from the Doddle website login page.
This is Language
https://www.thisislanguage.com/
The username to access this app is your surname + first initial + 2020 eg. smithj2020
lease see Miss Opstad or Mrs Harvey for passwords.
If you don't own Microsoft Office and would like to use a free alternative which is fully compatible with Microsoft Office, then please download and install LibreOffice on the link below.
LibreOffice Download link below (please select the correct version for your operating system)
https://www.libreoffice.org/download/download/ (choose version 6.3.5)
Latest LibreOffice post with some general info on the product https://blog.documentfoundation.org/blog/2020/03/24/libreoffice-a-great-choice-for-schools-and-education/
General educational websites
Duke's Isolation Learning Hours Recommendations
Work for all students who are currently isolating can be found on the students' Google Classroom accounts. There is work to cover the full curriculum time for each subject that isolating students are missing. Although we understand that organising home learning can present difficulties for some of our students, we do expect our students to take responsibility for their learning during any period that they are isolating. Accessing the work that has been provided by each subject should ensure that students are not behind in their education on their return to school. Recorded below is a guide on how to prioritise home learning and suggested study hours for each subject. Also recorded below is guidance on what to do if your child is unable to log on to Google Classroom and access the home learning materials.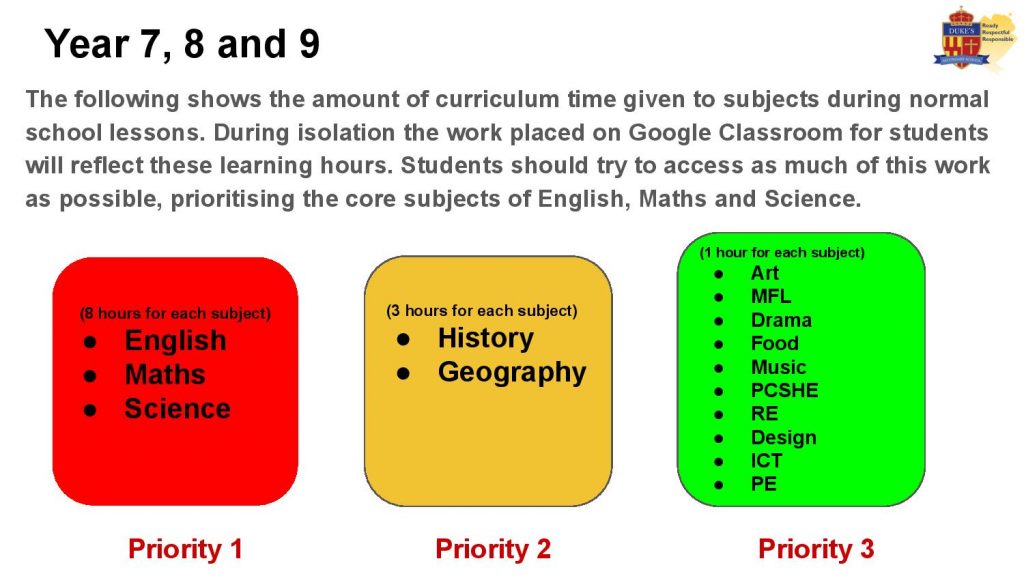 Staff Tips for Home Learning